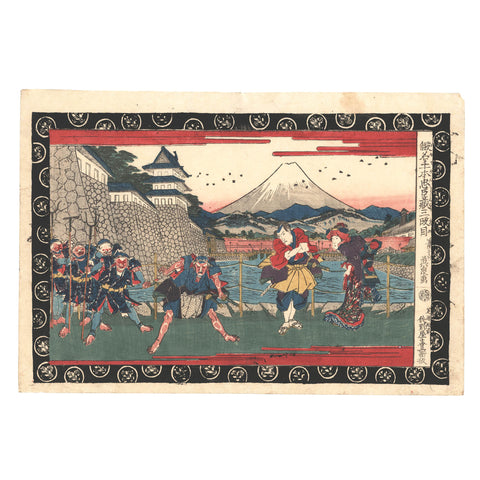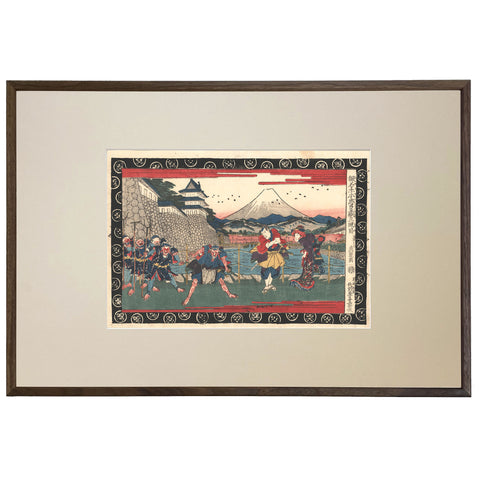 Eisen Kesai "Act 3: Kamakura Jidaikan, Bloodshed"
Pickup currently unavailable
The Kanadehon Chushingura is a popular 11-act kabuki play based on the true story of "The 47 Ronin." The story centers on the humiliation and death of Enya Hangan Takasada following a fateful encounter with Kono Musashi no Kami Moronao. The arc of the play focuses on Takasada's loyal retainers, now masterless ronin, as they plan and plot for over a year to avenge his death. In the climax, Moronao is killed and the remaining ronin are compelled to commit seppeku, ritual suicide, as a price for their successful revenge plot.
Here we present one of Eisen Keisai's designs from his "Kanadehon Chushingura" series, produced in circa 1835 as an eleven-part woodblock print collection. The black borders emblazoned with crests frames all of the prints in the series, which are carefully designed to emphasize key parts of each act and the story. Rarely available for sale as part of the entire set of eleven designs.
In this design of Act III, we see the Enya's retainer, Kanpei and his secret lover, Okaru outside the gates of Moronao's mansion. Inside, Moronao hurls insults at Enya, who draws his sword in anger and cuts him. Enya violates a sacred Shogun code and is forced to commit seppeku. Kanpei is ashamed of his absence from the encounter as he pursues his affair Okaru.
Series: Kanadehon Chushingura (Treasury of Loyal Retainers)
Date: c. 1835
Format: Oban (approx. 9" x 14")
Publisher: Sanoya Kihei
Condition: Small loss in top corner, light paper soiling, otherwise very good color and condition. Untrimmed.
Frame Shown: 16" x 24" x 1/2", Classic Wood, Walnut
Eisen Kesai (1790-1848) was a prolific artist whose is well-known today for his bijin-ga (pictures of beautiful women) works and his landscapes. Eisen inspired many artists in his lifetime and after his death, including the great Western painter Vincent van Gogh.
Framing & Shipping Info