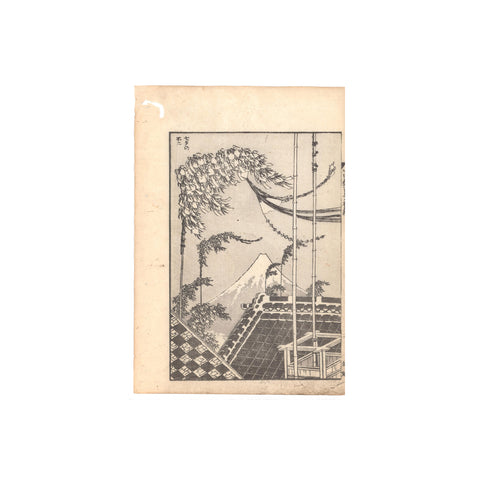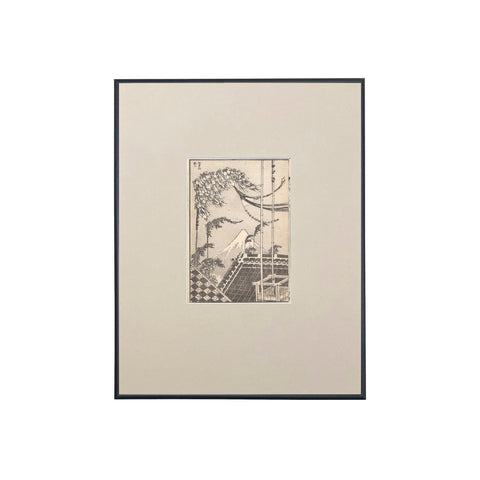 Katsushika Hokusai, "Fuji at Tanabata"
Pickup currently unavailable
The annual Tanabata Festival celebrates the meeting of two deities, Orihime and Hikoboshi, represented by the stars Altair and Vega. Here we see the tradition of people hanging of strips of paper (tanzaku), which are inscribed with wishes and prayers, and hoisted onto long bamboo poles. 

Hokusai's seminal work "100 Views of Mount Fuji" (Fugaku hyakkei) was originally published as a three volume ehon (picture book) starting in 1834 and into the 1840s. Devoid of any meaningful color, the 102 designs contained in the monochrome woodblock printed books are considered by many to be his masterpiece. Rare and highly coveted, Tokaido Arts is pleased to offer a selection of pages excavated from disassembled volumes from the second edition.
All prints are sent matted either 12" x 16" (one-panel) or 14" x 18" (two-panel).
Series: 100 Views of Fuji
Date: c. 1860s
Size: One-panel (approx. 5" x 8")
Publisher: Eirakuya Toshiro
Condition: Excellent impression; light soiling, wormhole in margin
Shown in 12" X 16" x 1/4" Modern Metal, Black Frame
Katsushika Hokusai (1760-1849) is an icon in the world of Japanese art, design, and woodblock prints. So much has been written about his life as an artist, and his art, making his woodblock prints some of the most treasured in the world.
Shipping Information