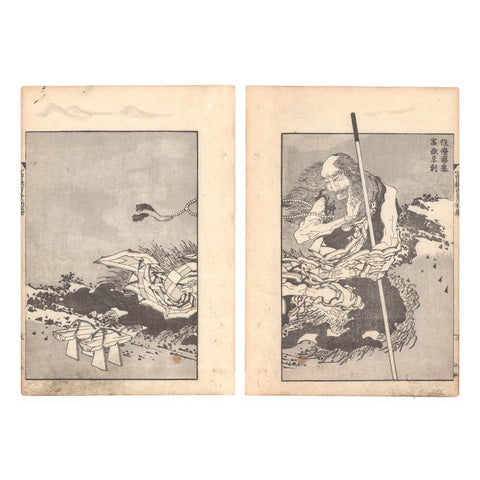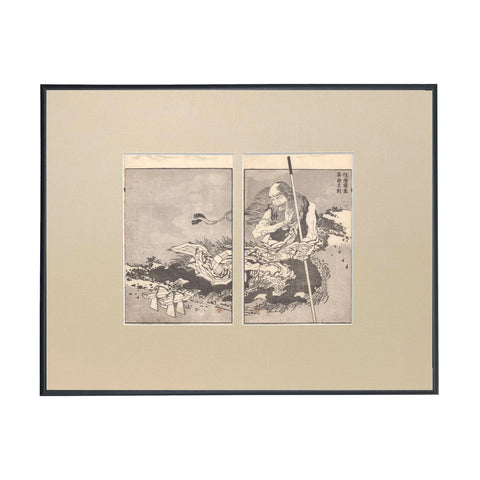 Katsushika Hokusai, "En no Gyoja Opens Mt. Fuji"
Pickup currently unavailable
En no Gyoja is the founder of Shugendo, a religion of mountain ascetics and is said to be the first man to climb to the peak of Mt. Fuji in the 8th century. Here is shown meditating in the crater of Mt. Fuji. The wind blows his robes and prayer beads, but his is immovable leaning on his staff. A spectacularly detailed design. 

Hokusai's seminal work "100 Views of Mount Fuji" (Fugaku hyakkei) was originally published as a three volume ehon (picture book) starting in 1834 and into the 1840s. Devoid of any meaningful color, the 102 designs contained in the monochrome woodblock printed books are considered by many to be his masterpiece. Rare and highly coveted, Tokaido Arts is pleased to offer a selection of pages excavated from disassembled volumes from the second edition.
All prints are sent matted either 12" x 16" (one-panel) or 14" x 18" (two-panel).
Series: 100 Views of Fuji
Date: c. 1860s
Size: Two-panel (each approx. 5" x 8")
Publisher: Eirakuya Toshiro
Condition: Excellent impression; soiling, binding holes in margin
Shown in 14" X 18" x 1/4" Modern Metal, Black Frame
Katsushika Hokusai (1760-1849) is an icon in the world of Japanese art, design, and woodblock prints. So much has been written about his life as an artist, and his art, making his woodblock prints some of the most treasured in the world.
Framing & Shipping Info