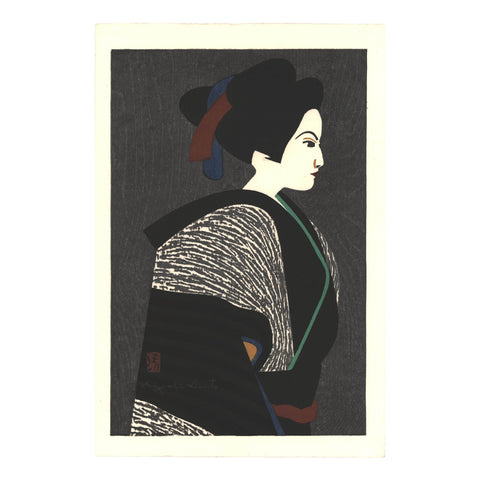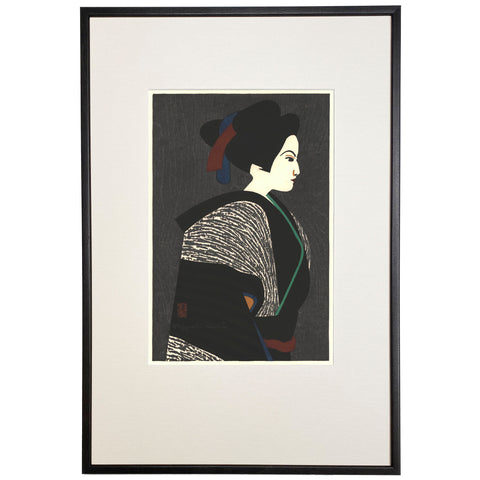 Kiyoshi Saito, "Banraku Puppet"
Pickup currently unavailable
Banraku is a traditional puppet theatre originating from Osaka in the 17th century. All the movements of the large puppet, including its limbs, eyes, and mouth, are controlled by three performers while another narrates both the dialogue and the scenes. In this woodblock print by Kiyoshi Saito, the grain of the woodblock is visible in the background to give the design added depth. 
Date: c. 1960
Format: Oban (approx. 10" x 15")
Unnumbered edition, pencil-signed by the artist
Self-published
Condition: Light wear on margins, otherwise excellent
Frame Shown: 16" x 24" x 1/2", Classic Wood, Ebony

Kiyoshi Saito (1907-1997) was a master printmaker who burst into the international art world with a prize at the Sao Paolo Biennial in 1951, thus cementing his legacy as a world renowned Japanese artist. He is considered by many to be one of the 20th century's most important contemporary artists to emerge from Japan in the post-war period.
Framing & Shipping Info