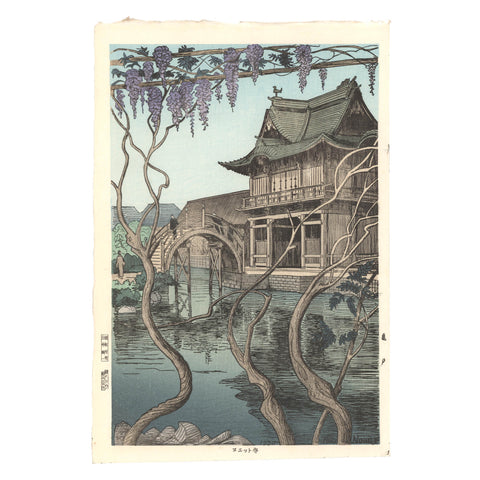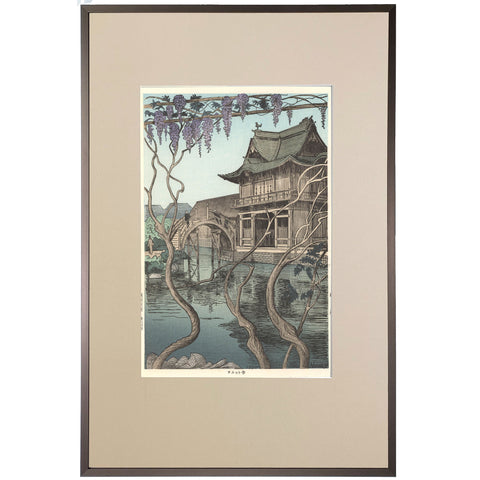 Noel Nouet, "Kameido"
Pickup currently unavailable
The Kameido Tenjin Shrine was built in 1646 in honor of Sugawara no Michizane, an important politician and scholar from the 9th century. Here, Kameido Tenjin Shrine is shown before it was destroyed in World War II. A web of wisteria branches and flowers frames the famous half-moon bridge leading to the shrine. 

The prints of Frenchman Noel Nouet were first produced by the publisher Doi Sadaichi in the 1930's from Nouet's pen sketches. The carvers employed by Doi took great care to replicate Nouet's pen strokes when carving the blocks, producing woodblock prints that look like illustrations. Pre-WWII editions of Nouet's prints are exceptionally rare. Tokaido Arts is pleased to offer a selection of ten designs printed in the post-war period from the original woodblocks.
Date: 1936
Size: Oban (approx. 9" x 14")
Later edition (Ito/Endoh Seal, c. 1970s)
Publisher: Doi Eiichi
Condition: Fine
Frame Shown: 16" x 24" x 1/2", Modern Metal, Walnut
Noel Nouet (1885-1969) is one of a handful of well-known artists from the West who established themselves as important figures in Japanese woodblock printmaking in the early 20th century (e.g. Elizabeth Keith, Paul Jacoulet, Lillian Miller). Primarily a poet and writer, Nouet was also an illustrator whose sketches caught the attention of the Doi publishing house. There are only about two dozen known woodblock prints by Noel Nouet.
Framing & Shipping Info