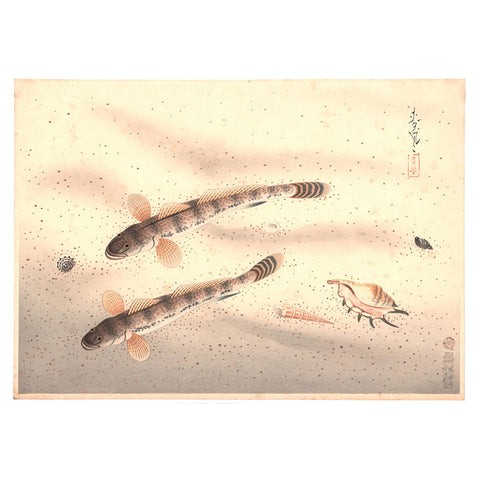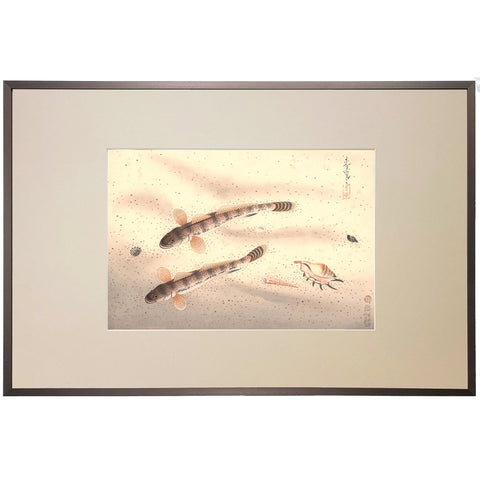 Ohno Bakufu "Mahaze"
Pickup currently unavailable
Ohno Bakufu's 6 volume series, "Great Japanese Fish Picture Collection," contained a total of 72 woodblock prints produced from 1937-1941. Considered by collectors to be his seminal work and beloved for the preciseness of the recreations, the works from this series were meticulously printed, sometimes with mica embellishments.

In this very rare first-state printing, two Mahaze fish swim past sea shells. Light mica is applied to the fish, while the spotted textures of the sea floor gives this design perspective.
Series: Great Japanese Fish Picture Collection, Volume 1
Date: 1937-38
Size: Oban
Publisher: Nishinomiya Shoin
Condition: First-state; light soiling on margins, light mounting remnants verso top corners, otherwise fine color and condition
Frame shown: 16" x 24" x 1/2" Modern Metal, Walnut
Ohno Bakufu (1888-1976) was a painter who is well-regarded today for his still life and landscape themed woodblock prints. Best known for his "Great Japanese Fish Picture Collection" series produced in 1937-1941 in six volumes, of which the first editions are exceptionally rare, many of Bakufu's prints possess a distinctive style using vivid and rich colors.
Framing & Shipping Info