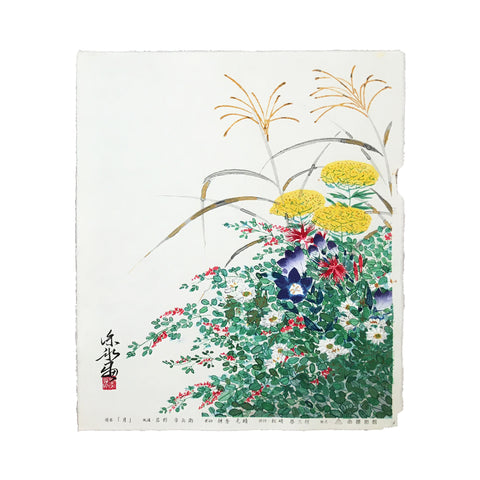 Shinpyo Katsuta, "Autumn Flowers"
Pickup currently unavailable
A bouquet of autumn flowers in full bloom is shown with rich deep colors set against a white background. The details are finely printed. This print is one of only three woodblock prints produced by Shinpyo based on his paintings. Large and rich in color, the prints were issued as a small edition of only 70 for each design. The works were produced in collaboration with a coterie of master artisans: Ichibei Iwano, a living Japanese treasure and paper-maker; Motoharu Asaka, carver; and Keizaburo Matsuzaki, printer.
Date: 2008
Size: Approx. 13" x 15"
Edition: 70
Condition: Excellent
Framing available for local pickup only. Please contact us for details and pricing.
Shinpyo Katsuta (1937-2012) was the son of one of the twentieth century's greatest woodblock printmakers, Ito Shinsui. Trained as painter, Shinpyo spent his career as a teacher and artist in Suzu City, Ischikawa Prefecture, Japan and in San Francisco. His paintings can be found in museums and private collections throughout the world. His most notable achievement was a piece commissioned by Larry Ellison, founder of Oracle.
Framing & Shipping Info