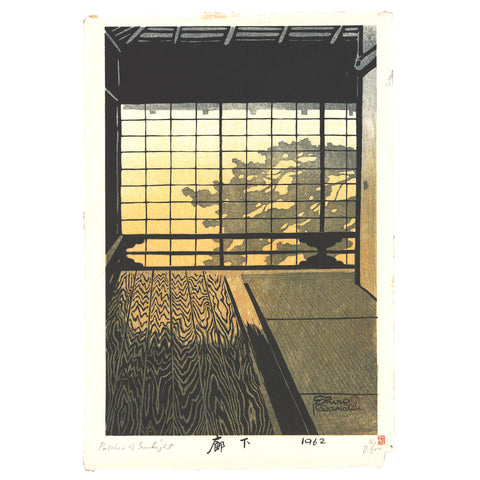 Shiro Kasamatsu, "Corridor"
Pickup currently unavailable
One of the twentieth century's most celebrated woodblock print artists, Shiro Kasamatsu began to publish his own works in the late 1950s like many of his contemporaries in the sosaku-hanga movement. In this design, the sunlight filters through the shoji screens in a traditional Japanese home. An alternate title is inscribed by the artist in the margin, "Patches of Sunlight." A limited edition woodblock print.
Date: 1962
Size: Oban (image approx. 9" x 15")
Edition: 4/100
Published by Artist
Condition: Excellent, previous mounting evidence on verso
Frame Shown: 16" x 24" x 1/2", Modern Metal, Walnut
Shiro Kasamatsu (1898-1991) began his artistic career during the shin-hanga period and would go on to produce some of Japan's most recognizable woodblock prints. Starting in second-half of the 20th century, Shiro would go on to carve, print, and publish his own prints, making him an influential artist in the sosaku-hanga movement as well.
Framing & Shipping Info