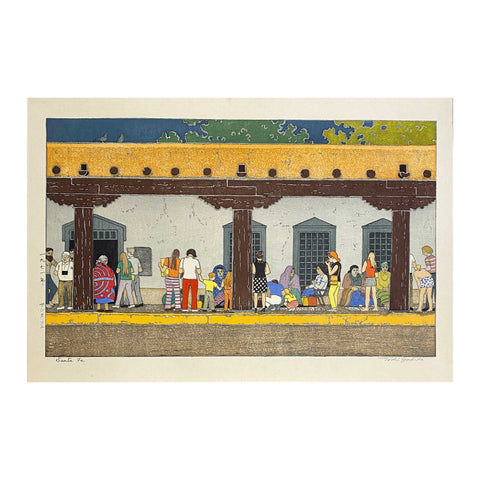 Toshi Yoshida, "Santa Fe"
Pickup currently unavailable
Toshi Yoshida's woodblock prints of his travels around the world depict the "extra"-ordinary beauty of the places that inspired him. The bright colors are a standout in this design, which shows merchants peddling their wares in a shopping district in Santa Fe, New Mexico. Pencil-signed by the artist, this woodblock print comes directly from the Yoshida family estate and has never been been displayed. A rarely available early-state.
Date: 1971
Size: Dai-Oban (image approx. 13" x 19")
Published by Artist (pencil-signed)
Condition: Fine
Framing available for local pickup only. Please contact us for details and pricing.
Toshi Yoshida (1911-1995) is one of the twentieth century's most important woodblock print artists. Toshi is part of a long and famous line of past and present artists whose influence and popularity persist to this day. His father, Hiroshi Yoshida, was a master painter and woodblock print artists at the height of the shin-hanga print movement.
Framing & Shipping Info