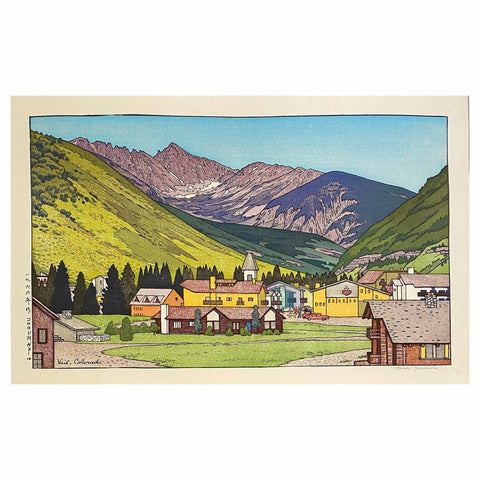 Toshi Yoshida, "Vail, Colorado"
Pickup currently unavailable
Toshi Yoshida's woodblock prints of his travels around the world depict the "extra"-ordinary beauty of the places that inspired him. Here, the quaintness of Vail, Colorado during the summer is shown with Vail Mountain looming in the background. The lush beauty of the natural mountain setting is wonderfully composed. Pencil-signed by the artist, this woodblock print comes directly from the Yoshida family estate and has never been been displayed. A rarely available early-state.
Date: 1966
Size: Dai-Oban (image approx. 13" x 19")
Published by Artist (pencil-signed)
Condition: Fine
Framing available for local pickup only. Please contact us for details and pricing.
Toshi Yoshida (1911-1995) is one of the twentieth century's most important woodblock print artists. Toshi is part of a long and famous line of past and present artists whose influence and popularity persist to this day. His father, Hiroshi Yoshida, was a master painter and woodblock print artists at the height of the shin-hanga print movement.
Framing & Shipping Info