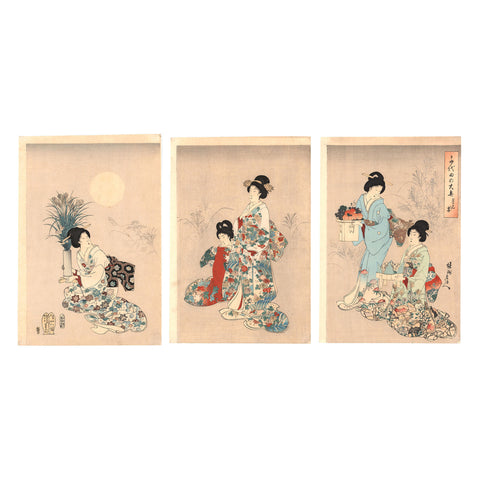 Toyohara Chikanobu, "Moon Viewing in a Garden"
Pickup currently unavailable
A full moon inspires a group of women to enjoy a garden in the evening. The subtle detailing of the background is a nice detail that contrasts beautifully with the intricate colors and designs in the kimonos.
Series: Ladies of Chiyoda Palace
Date: c. 1895
Size: Oban Triptych
Publisher: Hatsujiro
Condition: Excellent color and condition
Toyohara Chikanobu (1838-1912) was one of the Meiji-period's most prolific and well-known master woodblock printmakers, particularly in the genre of beautiful women prints (bijin-ga). His woodblock prints exemplify the skill and craftsmanship of woodblock printmaking following height of ukiyo-e in the Edo period.
Custom matting available for triptych prints. Sizes will be determined for best presentation in consultation with customer - overall size range will be 20" - 22" (height) X 38" - 40" (width). Note that additional shipping charges apply (sorry, no international shipping available for matted triptychs). Please select option below.
Framing & Shipping Info