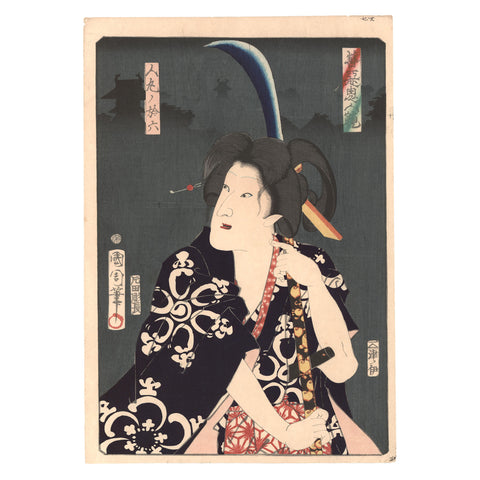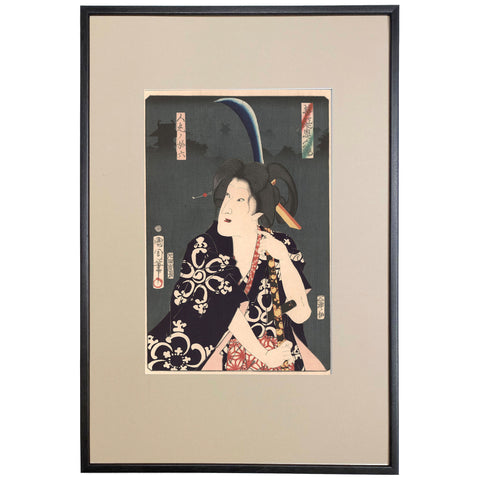 Toyohara Kunichika, "Hitomaro Oroko"
Pickup currently unavailable
Hitomaru Oroko is notorious for being a fierce female bandit in Japanese folklore. Here, the actor Iwai Shijaku plays the part as a male onnagata in a kabuki play. A beautifully printed composition showing Hitomaru set against a dark outline of castles while grasping a naginata.
Toyohara Kunichika's series, Mirror of Demonic People, Good and Evil, comprises a total of 32 prints featuring warriors and bandits in Japanese history and folklore whose exploits exemplify both the good and evil in human nature. Tokaido Arts is pleased to present a rare selection of designs from this incredible series.
Series: Mirror of Demonic People, Good and Evil
Date: 1868
Format: Oban (approx. 9" x 14")
Publisher: Tsunoi
Condition: Excellent color and condition
Frame Shown: 16" x 24" x 1/2", Classic Wood, Ebony
Toyohara Kunichika (1835-1900) was a prolific woodblock print artist whose works portraying kabuki plays and actors are noted for their use of rich, deep colors.
Framing & Shipping Info