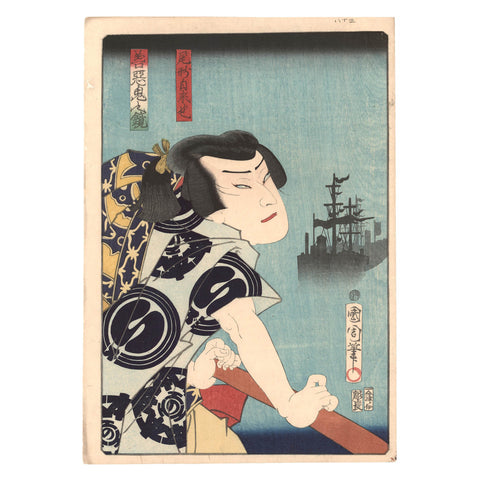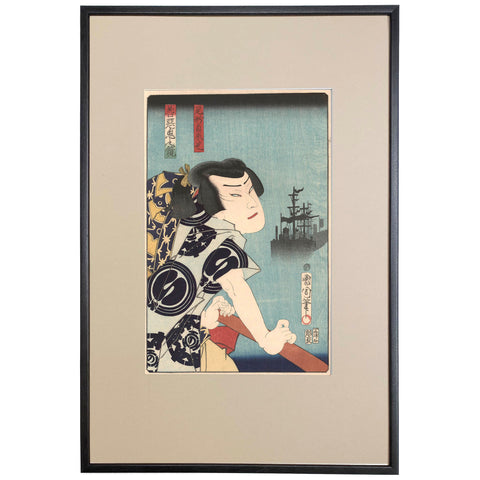 Toyohara Kunichika, "Jiraiya Ogata"
Pickup currently unavailable
The saga of Jiraiya Ogata is a popular story in Japanese folklore whose story has been adapted even into modern times (e.g. Naruto). Jiraiya is said to have been endowed with magical powers from a toad. In this design, Jaraiya is shown steering a boat as a pirate while an outlaw of the authorities. The silhouettes of two ships loom in the background.
Toyohara Kunichika's series, Mirror of Demonic People, Good and Evil, comprises a total of 32 prints featuring warriors and bandits in Japanese history and folklore whose exploits exemplify both the good and evil in human nature. Tokaido Arts is pleased to present a rare selection of designs from this incredible series.
Series: Mirror of Demonic People, Good and Evil
Date: 1868
Format: Oban (approx. 9" x 14")
Publisher: Tsunoi
Condition: Excellent/fine color and condition
Frame Shown: 16" x 24" x 1/2", Classic Wood, Ebony
Toyohara Kunichika (1835-1900) was a prolific woodblock print artist whose works portraying kabuki plays and actors are noted for their use of rich, deep colors.
Framing & Shipping Info