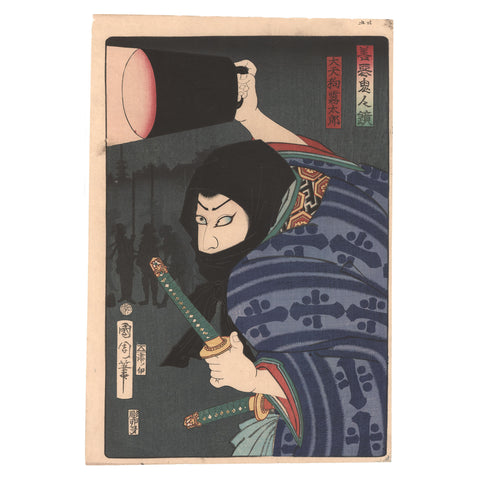 Toyohara Kunichika, "Tengu Kozo Kiritaro"
Pickup currently unavailable
The legendary tengu of Japanese folklore are creatures of the forest and mountains with bird and monkey-like features. Tengu are generally known to create chaos, but are also regarded as honorable creatures skilled in the art of combat. In this rare and incredible design, we see the warrior Kiritaro, who was trained by a tengu, holding a gando (searchlight) while sneaking around a group of soldiers in the background. A striking design with full, vibrant colors. 
Toyohara Kunichika's series, Mirror of Demonic People, Good and Evil, comprises a total of 32 prints featuring warriors and bandits in Japanese history and folklore whose exploits exemplify both the good and evil in human nature. Tokaido Arts is pleased to present a rare selection of designs from this incredible series.
Series: Mirror of Demonic People, Good and Evil
Date: 1868
Format: Oban (approx. 9" x 14")
Publisher: Tsunoi
Condition: Small stain left margin, light crease left margin, otherwise very fine color and condition
Frame Shown: 16" x 24" x 1/2", Classic Wood, Ebony
Toyohara Kunichika (1835-1900) was a prolific woodblock print artist whose works portraying kabuki plays and actors are noted for their use of rich, deep colors.
Framing & Shipping Info