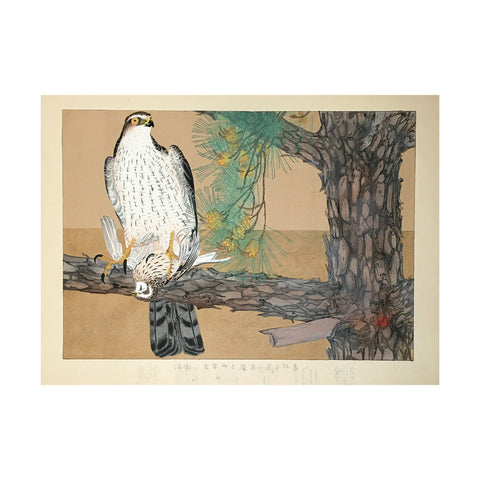 Tsuchiya Rakusan, "Sparrowhawk"
Pickup currently unavailable
Tsuchiya Rakusan's Kachou Gafu (Flower and Bird Print series) of woodblock prints are grand, incredibly elaborate, and capture perfectly the raw beauty of nature. Consisting of one-hundred different designs, Rakusan began publication of prints in the series between 1929 and 1933. Each design reflects the meticulous detail of the woodblocks carved, the delicate skill of the printing process, and the fine application of color.
In this first-edition impression, a Sparrowhawk, which is native to Japan and was once used for falconry, is shown perched on the branches of a flowering red pine. The Sparrowhawk is shown with a captured Mountain Skylark bird. The realism and detail in the printing of the tree is especially noteworthy.
Date: c. 1929
Size: approx. 13" x 19" (image)
Published by Artist; first-state watermark lower margin
Condition: Light margin/verso wear, otherwise excellent color and condition

Tsuchiya Rakusan (1896-1976) is highly regarded among collectors for his Kachou Gafu series from the early 1930s of intricately carved and printed flower and bird prints.
Framing & Shipping Info