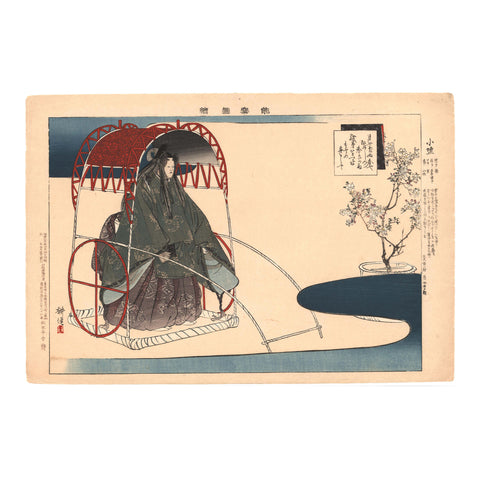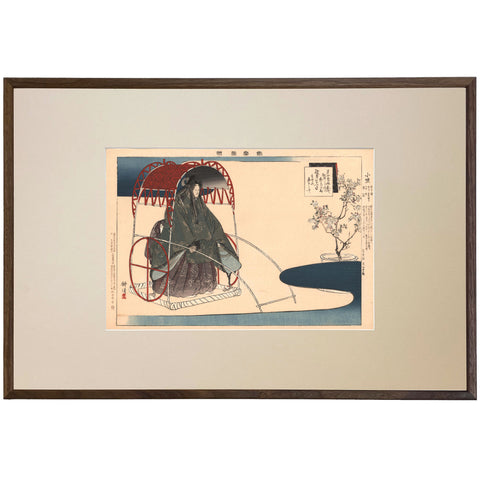 Tsukioka Kogyo, "Oshio"
Pickup currently unavailable
The cherry blossoms at Mount Oshio outside Kyoto are celebrated in this Noh woodblock print by Kogyo which tells the tale of a mysterious old man whose recitations of poems about cherry blossoms by the famous poet Ariwara no Narihara amaze travelers. The old man later reveals his identity as the spirit of Narihara. Here Narihara is shown in hand-drawn cart. The composition of this print is oddly satisfying, made even more intriguing by the richness of the colors.
Noh is a dramatic dance-form of theatre developed in the 14th century based on otherworldly literary tales. In addition to the extreme skills of the performer, Noh's defining aesthetic features is the use of masks and elaborate costumes, which helps to punctuate the mood of characters.
Series: Pictures of Noh
Date: 1900
Size: Oban (approx. 10" x 14")
Publisher: Matsuki Heikichi
Condition: Excellent
Frame Shown: 16" x 24" x 1/2", Classic Wood, Clear Walnut

Tsukioka Kogyo (1869-1927) is a widely recognized Meiji-period artist of Noh woodblock prints. A student and adopted son of the master Tsukioka Yoshitoshi, Kogyo's Noh prints epitomize the styling of Meiji-period woodblock prints. While many prints from his "Pictures of Noh" series are simple, we are pleased to present some of his more standout designs from this series.
Framing & Shipping Info