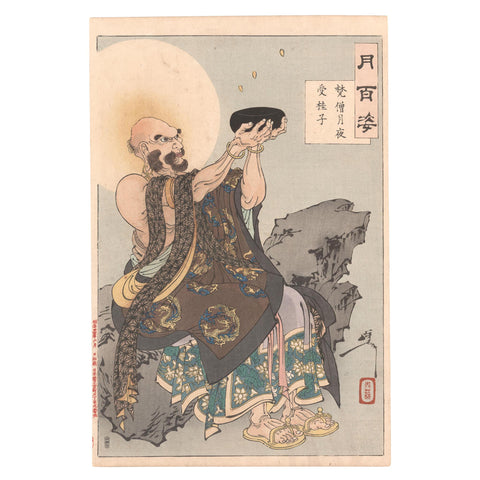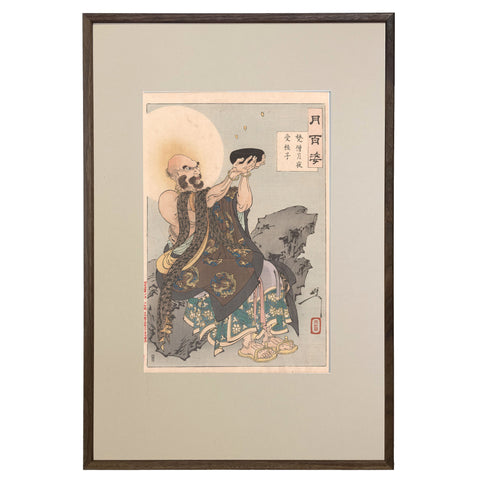 Tsukioka Yoshitoshi, "Buddhist Rakan Receives Cassia Sees"
Pickup currently unavailable
According to Chinese and Japanese folklore, eight cassia trees grow on the moon, shedding seeds that give immortality and invisibility to those who eat them. Here a Buddhist rakan catches seeds in his bowl while seated on a rock. The full moon behind his head, printed beyond the print's borders, also gives him his halo.

Series: One Hundred Aspects of the Moon
Date: 1891
Size: Oban
Publisher: Akiyama Buemon
Condition: Light soiling and trimming, otherwise excellent color and condition
Frame Shown: 16" x 24", Classic Wood, Walnut
Tsukioka Yoshitoshi's (1839-1892) Tsuki hyakushi (One Hundred Aspects of the Moon) series of woodblock prints make up some of Yoshitoshi's most recognizable and popular designs today. A number of highly influential compositions make up this series, which illustrates Chinese and Japanese history, folklore, and literature with the moon as a unifying theme. Taken as a whole, Yoshitoshi's "One Hundred Aspects of the Moon" is a masterpiece showcasing Yoshitoshi's tremendous talent as an artist and his deep sentimental connection to Japan's rich cultural history.
Framing & Shipping Info