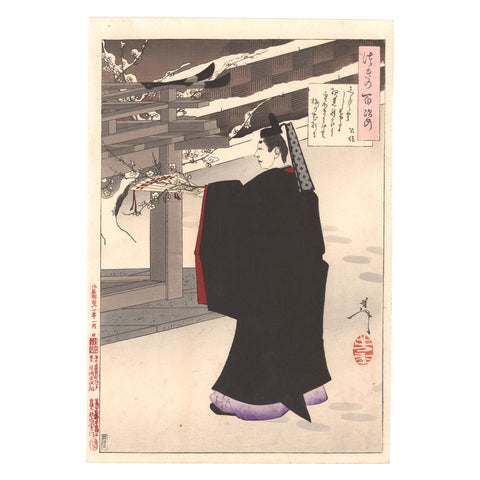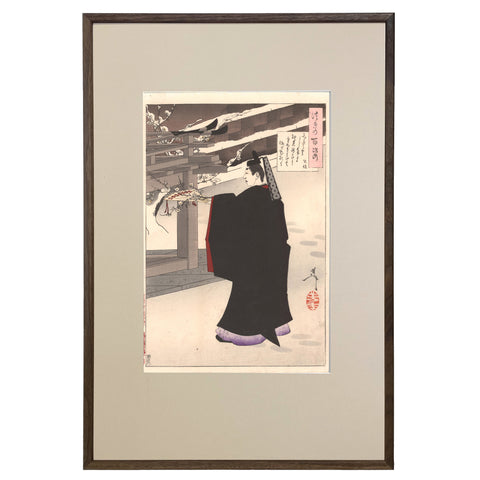 Tsukioka Yoshitoshi, "Fujiwara no Kinto Picks Plum Blossom"
Pickup currently unavailable
Fujiwara no Kinto is one of Japan's most famous classical poets from the Heian period, whose most influential text compiled works from thirty-six of the greatest poets up to his time. In this design, Fujiwara no Kinto admires a branch of a plum blossom after a snowfall. The cartouche contains a poem: "In the midst of glimmering whiteness / among the night's moon-shadows / I part the snow and pluck plum blossoms." An intricate design printed with black lacquer ink adorns his robe.

Series: One Hundred Aspects of the Moon
Date: 1891
Size: Oban
Publisher: Akiyama Buemon
Condition: Unbacked and untrimmed; excellent color and condition
Frame Shown: 16" x 24", Classic Wood, Walnut
Tsukioka Yoshitoshi's (1839-1892) Tsuki hyakushi (One Hundred Aspects of the Moon) series of woodblock prints make up some of Yoshitoshi's most recognizable and popular designs today. A number of highly influential compositions make up this series, which illustrates Chinese and Japanese history, folklore, and literature with the moon as a unifying theme. Taken as a whole, Yoshitoshi's "One Hundred Aspects of the Moon" is a masterpiece showcasing Yoshitoshi's tremendous talent as an artist and his deep sentimental connection to Japan's rich cultural history.
Framing & Shipping Info