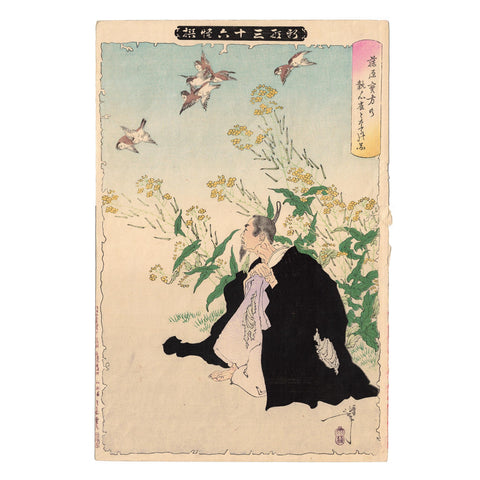 Tsukioka Yoshitoshi, "Fujiwara no Sanekata's Obsession Turns Into Sparrows"
Pickup currently unavailable
When the great poet Fujiwara no Sanekata of the Heian and Kamakura periods is overlooked for a prestigious appointment in the Imperial Court, his anger and resentment forces him into exile. One day, he observes a group of sparrows flying and longs to live a life free of worldly pressures. A wonderfully contemplative composition.
Series: New Forms of Thirty-Six Ghosts
Date 1889
Size: Oban
Publisher: Sasaki Toyokichi
Condition: Small tear right margin, light creases bottom left, otherwise excellent color and condition (original album backing; light trimming)
Shown in Classic Wood, Walnut Frame
Tsukioka Yoshitoshi's (1839-1892) Shinkei sanjurokkaissen (New Forms of Thirty-Six Ghosts) series of woodblock prints was the artist's last series of works completed between 1889 and 1892 before his death. The prints from this series are exemplary of Yoshitoshi's long interest on macabre and dark subjects, and is illustrative of his unique abilities to channel these subjects into beautifully captivating compositions. Tokaido Arts is pleased to offer a selection from one of Yoshitoshi's most famous series of woodblock prints.
Framing & Shipping Info