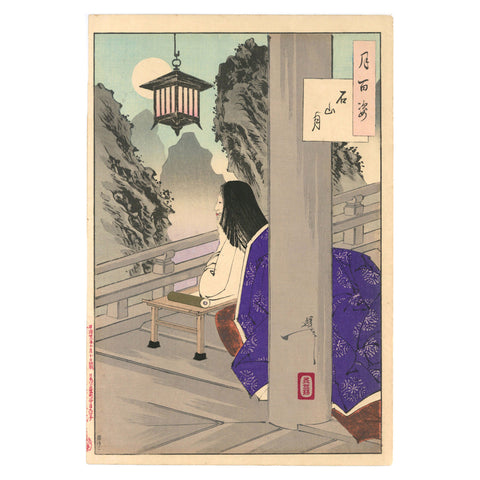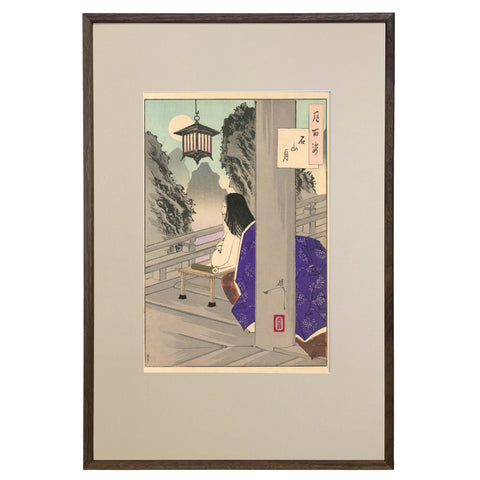 Tsukioka Yoshitoshi, "Ishiyama Moon"
Pickup currently unavailable
The "Tale of Genji" is one of Japan's greatest classical novels written in the 11th century by the Heian Court Lady, Murasaki Shikibu. Here, Yoshitoshi shows Murasaki gazing into a mountain as she leans on her writing desk deep in thought. The subtle purple coloring is masterfully printed.

Series: One Hundred Aspects of the Moon
Date: 1891
Size: Oban
Publisher: Akiyama Buemon
Condition: Excellent color and condition
Frame Shown: 16" x 24", Classic Wood, Walnut
Tsukioka Yoshitoshi's (1839-1892) Tsuki hyakushi (One Hundred Aspects of the Moon) series of woodblock prints make up some of Yoshitoshi's most recognizable and popular designs today. A number of highly influential compositions make up this series, which illustrates Chinese and Japanese history, folklore, and literature with the moon as a unifying theme. Taken as a whole, Yoshitoshi's "One Hundred Aspects of the Moon" is a masterpiece showcasing Yoshitoshi's tremendous talent as an artist and his deep sentimental connection to Japan's rich cultural history.
Framing & Shipping Info