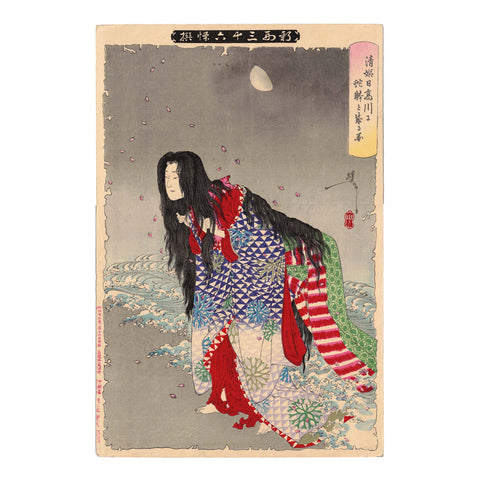 Tsukioka Yoshitoshi, "Kiyohime Changes Into A Serpent at Hidaka River"
Pickup currently unavailable
Superimposing animal qualities on humans are prevalent in Chinese and Japanese stories. These animal qualities often manifest themselves in ghastly forms from the extreme emotions found in human nature and symbolize the good and bad qualities of these emotions. In this interpretation of an old Japanese story, a young woman named Kiyohime transforms into a serpent as she pursues a monk named Anchin who has spurned her love. She eventually catches up to him hiding in a bell, and you guessed it, she kills him by coiling around the bell and melting him inside it with her fire-breathe.
Series: New Forms of Thirty-Six Ghosts
Date 1889
Size: Oban
Publisher: Sasaki Toyokichi
Condition: Excellent color and condition (original album backing; light trimming)
Shown in Classic Wood, Walnut
Tsukioka Yoshitoshi's (1839-1892) Shinkei sanjurokkaissen (New Forms of Thirty-Six Ghosts) series of woodblock prints was the artist's last series of works completed between 1889 and 1892 before his death. The prints from this series are exemplary of Yoshitoshi's long interest on macabre and dark subjects, and is illustrative of his unique abilities to channel these subjects into beautifully captivating compositions. Tokaido Arts is pleased to offer a selection from one of Yoshitoshi's most famous series of woodblock prints.
Framing & Shipping Info