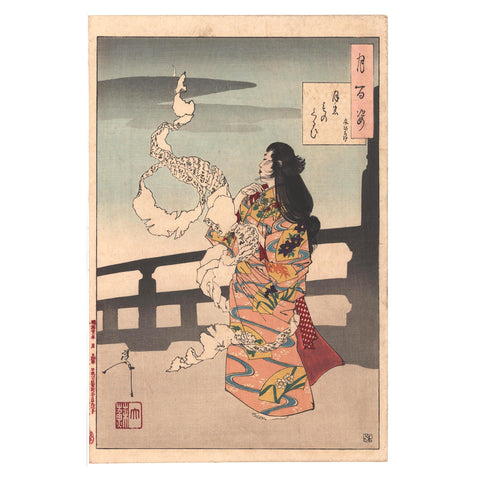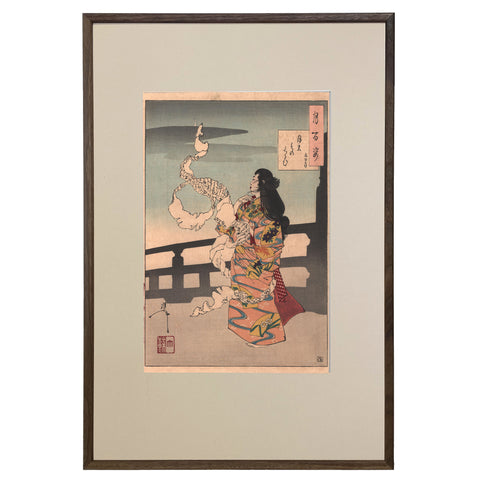 Tsukioka Yoshitoshi, "Lunacy"
Pickup currently unavailable
A young servant in Toyotomi Hideyoshi's house, Ochiyo, mourns the death of her lover by rolling and unrolling his letters. A sliver of the crescent moon hides behind clouds in the sky. Ochiyo's figure is beautifully printed and set against the outline of the Gojo bridge in Kyoto.

Series: One Hundred Aspects of the Moon
Date: 1889
Size: Oban
Publisher: Akiyama Buemon
Condition: Excellent color and condition
Frame Shown: 16" x 24", Classic Wood, Walnut
Tsukioka Yoshitoshi's (1839-1892) Tsuki hyakushi (One Hundred Aspects of the Moon) series of woodblock prints make up some of Yoshitoshi's most recognizable and popular designs today. A number of highly influential compositions make up this series, which illustrates Chinese and Japanese history, folklore, and literature with the moon as a unifying theme. Taken as a whole, Yoshitoshi's "One Hundred Aspects of the Moon" is a masterpiece showcasing Yoshitoshi's tremendous talent as an artist and his deep sentimental connection to Japan's rich cultural history.
Framing & Shipping Info