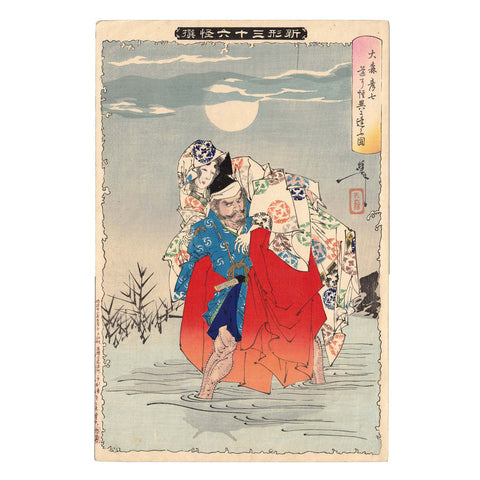 Tsukioka Yoshitoshi, "Omori Hikoshichi & the Demon"
Pickup currently unavailable
The hannya is a female demon whose twisted and demonic facial features are symbolic of the envy and jealously that marked its life as a human. The dramatic expression of the hannya is common in Noh theatre and a popular design among tattoo artists. In this image, the warrior Omori Hikoshichi meets a beautiful woman one evening who asks to be carried across a stream. En route, the moonlight casts a shadow of his passenger to show that she is a hannya preparing to kill him (see detail). Omori is said to have successfully defended himself.
Series: New Forms of Thirty-Six Ghosts
Date 1889
Size: Oban
Publisher: Sasaki Toyokichi
Condition: Excellent color and condition (original album backing; light trimming)
Shown in Classic Wood, Walnut Frame
Tsukioka Yoshitoshi's (1839-1892) Shinkei sanjurokkaissen (New Forms of Thirty-Six Ghosts) series of woodblock prints was the artist's last series of works completed between 1889 and 1892 before his death. The prints from this series are exemplary of Yoshitoshi's long interest on supernatural and dark subjects, and is illustrative of his unique abilities to channel these subjects into beautifully captivating compositions. Tokaido Arts is pleased to offer a selection from one of Yoshitoshi's most famous series of woodblock prints.
Framing & Shipping Info