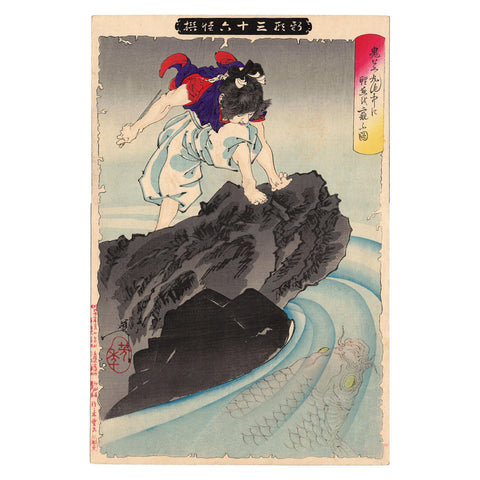 Tsukioka Yoshitoshi, "Oniwaka Watches the Giant Carp"
Pickup currently unavailable
The story of the 12th century hero Benkei has long been part of Japanese historical legend. To this day, he still retains his legendary status in history and even pop culture. As a child, Benkei was called Oniwaka, or little devil, because of his volatile temperament. He is also known for his supernatural strength and later in life, his steady loyalty. Here, the young Oniwaka prepares to kill a giant carp that has eaten his mother. A beautifully composed image with striking colors throughout.
Series: New Forms of Thirty-Six Ghosts
Date 1889
Size: Oban
Publisher: Sasaki Toyokichi
Condition: Light color transfer in center, otherwise excellent color and condition (original album backing; light trimming)
Shown in Classic Wood, Walnut
Tsukioka Yoshitoshi's (1839-1892) Shinkei sanjurokkaissen (New Forms of Thirty-Six Ghosts) series of woodblock prints was the artist's last series of works completed between 1889 and 1892 before his death. The prints from this series are exemplary of Yoshitoshi's long interest on macabre and dark subjects, and is illustrative of his unique abilities to channel these subjects into beautifully captivating compositions. Tokaido Arts is pleased to offer a selection from one of Yoshitoshi's most famous series of woodblock prints.
Framing & Shipping Info