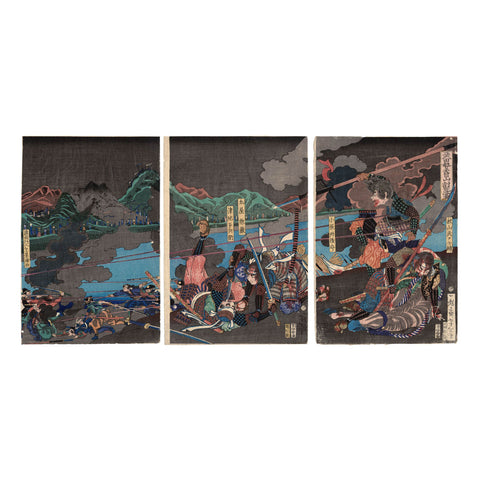 Tsukioka Yoshitoshi, "Takeda's Troops Defeated in Battle at Mt. Temmoku"
Pickup currently unavailable
The violence of The Battle of Tenmokuzan in 1582 punctuates this rare triptych by one of the masters of Japanese woodblock prints, Yoshitoshi. The Battle of Tenmokuzan was Takeda Katsuyori's final stand against the forces of Tokugawa Ieyasu and Oda Nobunaga. The Takeda clan's defeat was part of larger campaign that would eventually lead to the unification of Japan in 1603 under the Tokugawa Shogunate and the beginning of the Edo period in Japanese history (1603-1868).

Date 1866
Size: Oban Triptych (each sheet approx. 9" x 14")
Condition: Light wear on edges, otherwise excellent color and condition
Custom matting available for triptych prints. Sizes will be determined for best presentation in consultation with customer - overall size range will be 20" - 22" (height) X 38" - 40" (width). Note that additional shipping charges apply (sorry, no international shipping available for matted triptychs). Please select option below.
Tsukioka Yoshitoshi's (1839-1892) rise to fame and flourishing career blossomed during the Meiji period, but he is still considered one of the last of the greatest of ukiyo-e period printmakers. Many of Yoshitoshi's works are the most recognizable and iconic designs in Japanese woodblock prints today.
Framing & Shipping Info