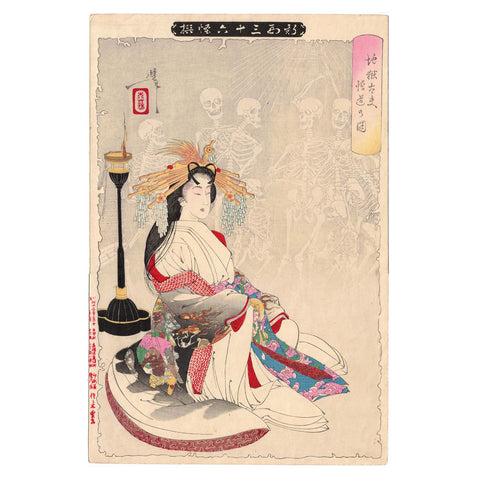 Tsukioka Yoshitoshi, "The Enlightenment of Jigokudayu"
Pickup currently unavailable
Spirits often manifest themselves in the physical world as divine intervention or as a premonition of what is to come. This design tells the story of the courtesan Jigokudayu (Jigoku means hell), whose life was full of misfortune, and who one day sees a group of skeletons and interprets this as a sign to change her life and become a nun. A monk named Ikkyu convinces her that doing so will not lead her to enlightenment as her physical existence is less relevant to her spiritual growth. "Beneath the skin of the person we caress today, there is no more than a skeleton propping up the flesh." A wonderful piece from Yoshitoshi's series with embossed printing.
Series: New Forms of Thirty-Six Ghosts
Date 1889
Size: Oban
Publisher: Sasaki Toyokichi
Condition: Excellent color and condition, embossing (original album backing; light trimming)
Shown in Classic Wood, Walnut Frame
Tsukioka Yoshitoshi's (1839-1892) Shinkei sanjurokkaissen (New Forms of Thirty-Six Ghosts) series of woodblock prints was the artist's last series of works completed between 1889 and 1892 before his death. The prints from this series are exemplary of Yoshitoshi's long interest on macabre and dark subjects, and is illustrative of his unique abilities to channel these subjects into beautifully captivating compositions. Tokaido Arts is pleased to offer a selection from one of Yoshitoshi's most famous series of woodblock prints.
Framing & Shipping Info