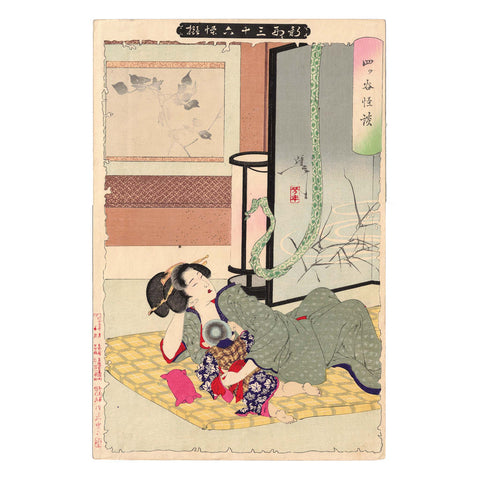 Tsukioka Yoshitoshi, "The Ghost Story of Yotsuya"
Pickup currently unavailable
A famous story is captured in one of Yoshitoshi's masterpieces. It shows Oiwa and her young son being visited by a serpent spirit, which has taken the form of a sash. The spirit foreshadows her fate of being killed by her unfaithful husband, who is eventually haunted by Oiwa's ghost for all his life. A beautiful woodblock print with fine detailing throughout.
Series: New Forms of Thirty-Six Ghosts
Date 1889
Size: Oban
Publisher: Sasaki Toyokichi
Condition: Spot center, otherwise, excellent color and condition (original album backing; light trimming)
Shown in Classic Wood, Walnut Frame
Tsukioka Yoshitoshi's (1839-1892) Shinkei sanjurokkaissen (New Forms of Thirty-Six Ghosts) series of woodblock prints was the artist's last series of works completed between 1889 and 1892 before his death. The prints from this series are exemplary of Yoshitoshi's long interest on macabre and dark subjects, and is illustrative of his unique abilities to channel these subjects into beautifully captivating compositions. Tokaido Arts is pleased to offer a selection from one of Yoshitoshi's most famous series of woodblock prints.
Shipping Information