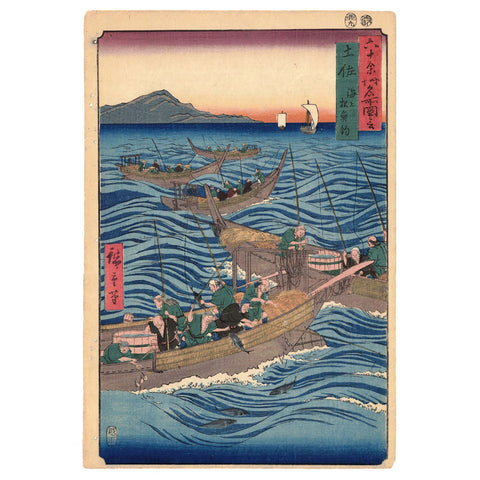 Utagawa (Ando) Hiroshige, "Bonito Fishing, Tosa Province"
Pickup currently unavailable
Tosa Province is in what is now Kochi Prefecture. This wonderfully composed woodblock print shows a group of fishermen fishing for bonito. The print masterfully captures the constant movement of the sea. Hiroshige's "Sixty-odd Provinces" series of prints showcased famous views from Japan's 68 provinces, an administrative delineation that preceded the current prefecture system instituted during the Meiji period starting in 1868.
Series: Pictures of Famous Places in the Sixty-odd Provinces
Date 1856
Size: Oban
Publisher: Koshimuraya Heisuke (Koshihei)
Condition: Small binding holes in left margin, otherwise excellent color and condition
Utagawa Hiroshige (1797-1858) is the most important Japanese artist to emerge from Edo period ukiyo-e. Hiroshige is a widely recognized master of Japanese woodblock prints whose works have had a tremendous influence on artistic currents throughout the world. His woodblock prints are highly coveted by collectors and museums around the world.
Framing & Shipping Info