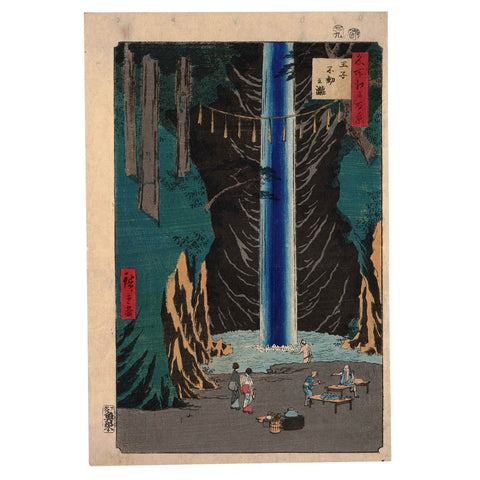 Utagawa (Ando) Hiroshige, "Fudo Falls at Oji"
Pickup currently unavailable
Fudo Falls is the best known of seven waterfalls of Oji that comprise the cascading waters near Mount Asuka. Named after the diety Fudo - who protects from evil spirits - the cascade of water in the image is grand and wonderfully composed. The visitors in the foreground enjoy the view and the water - which is said to contain healing powers - and draws the viewer into the scene. Hiroshige's "100 View of Edo" series of prints is one of his most famous and iconic series of prints.
Series: 100 Famous Views of Edo
Date 1857
Size: Oban
Publisher: Shitaya Uo Ei
Condition: Light soiling, repaired binding holes, excellent color and condition
Utagawa Hiroshige (1797-1858) is the most important Japanese artist to emerge from Edo period ukiyo-e. Hiroshige is a widely recognized master of Japanese woodblock prints whose works have had a tremendous influence on artistic currents throughout the world. His woodblock prints are highly coveted by collectors and museums around the world.
Framing & Shipping Info