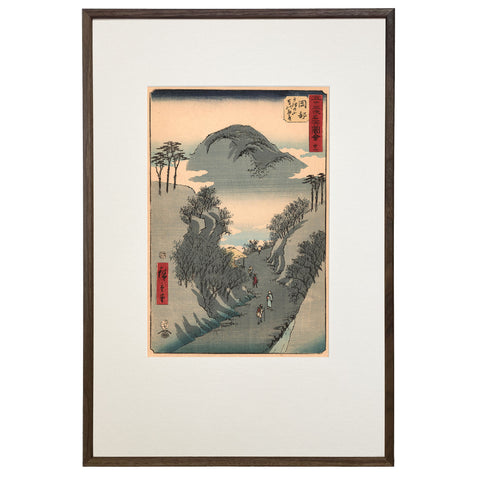 Utagawa (Ando) Hiroshige, "Station 21: Okabe"
Pickup currently unavailable
Okabe station and the ivy-lined road at Mount Utsu are shown in this striking and magnificent composition. The design echoes Chinese sumi-e landscape paintings with its dark color palette, vertical perspective, and what appears to be a mountain floating in thin air in the background.
Hiroshige's works from his vertically oriented series, "The 53 Stations of the Tokaido Road," contains some of the artist's most recognizable designs. Completed in 1855, this series of works is the culmination of the artist's lifelong affinity for the people and scenery inhabiting this important travel route. 

Series: The 53 Stations of the Tokaido Road (Upright Tokaido)
Date 1855
Size: Oban
Publisher: Tsutaya Kichizo (Koeido)
Condition: Small loss top left corner, otherwise excellent color and condition
Frame Shown: 16" x 24" x 1/2", Classic Wood, Ebony, White Mat
Utagawa Hiroshige (1797-1858) is the most important Japanese artist to emerge from Edo period ukiyo-e. Hiroshige is a widely recognized master of Japanese woodblock prints whose works have had a tremendous influence on artistic currents throughout the world. His woodblock prints are highly coveted by collectors and museums around the world.
Framing & Shipping Info