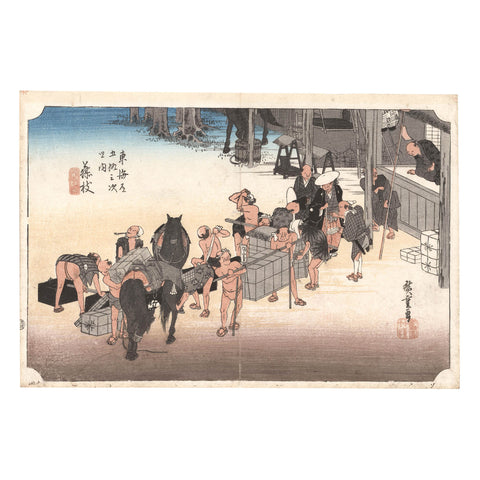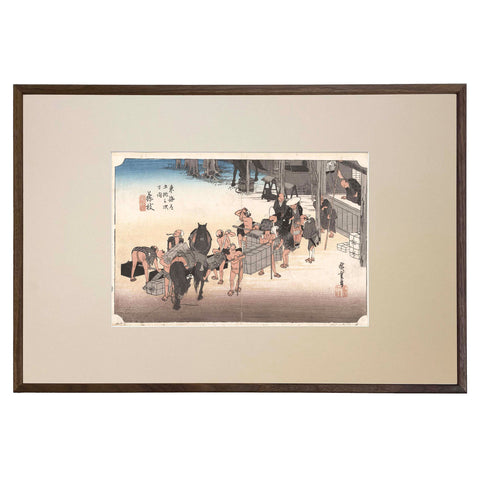 Utagawa (Ando) Hiroshige, "Station 22: Fujieda"
Pickup currently unavailable
Located in Shizuoka Prefecture, Fujieda is the twenty-second station along Japan's fifty-three stations of the great Tokaido connecting Kyoto to Edo (modern-day Tokyo). Fujieda was a relay station along the Tokaido where horses and porters were refreshed to continue the journey. This fine impression is part of Hiroshige's Hoiedo edition of his famous "53 Stations of the Tokaido" series of prints.

Series: 53 Stations of the Tokaido
Date 1833-34
Size: Oban
Publisher: Hoeido/Senkakudo
Condition: Faint centerfold, light matburn, otherwise excellent color and condition
Utagawa Hiroshige (1797-1858) is the most important Japanese artist to emerge from Edo period ukiyo-e. Hiroshige is a widely recognized master of Japanese woodblock prints whose works have had a tremendous influence on artistic currents throughout the world. His woodblock prints are highly coveted by collectors and museums around the world.
Framing & Shipping Info