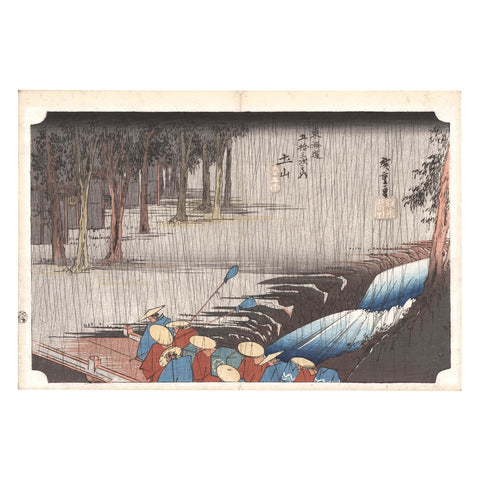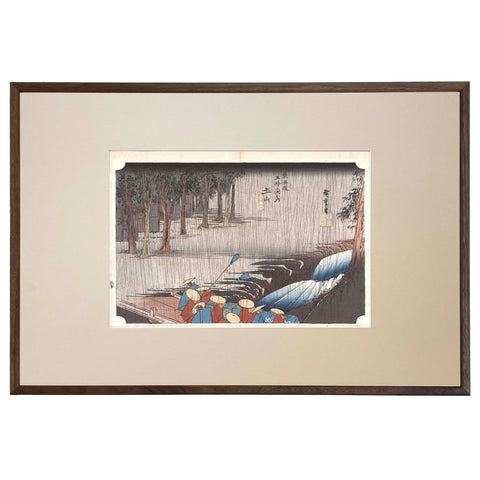 Utagawa (Ando) Hiroshige, "Station 49: Tsuchiyama"
Pickup currently unavailable
One of Hiroshige's masterpieces from the Hoiedo edition of his famous "53 Stations of the Tokaido" series of woodblock prints, a daimyo procession enters Tsuchiyama in Shiga Prefecture and braves driving rain while crossing a bridge to reach respite in the buildings across the raging stream. A moody, yet magnificent composition with spectacular use of lines throughout to convey a stormy night.

Series: 53 Stations of the Tokaido
Date 1833-34
Size: Oban
Publisher: Hoeido/Senkakudo
Condition: Faint centerfold, light matburn, otherwise excellent color and condition
Utagawa Hiroshige (1797-1858) is the most important Japanese artist to emerge from Edo period ukiyo-e. Hiroshige is a widely recognized master of Japanese woodblock prints whose works have had a tremendous influence on artistic currents throughout the world. His woodblock prints are highly coveted by collectors and museums around the world.
Framing & Shipping Info