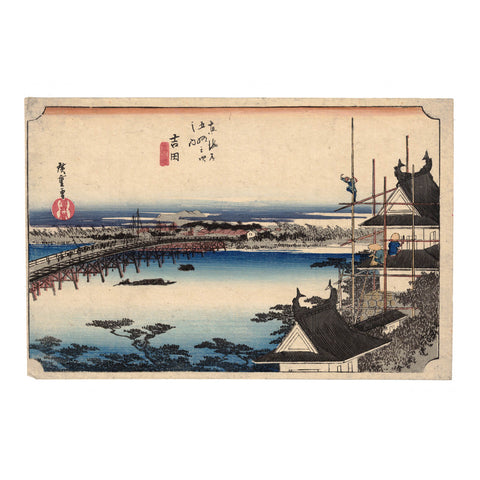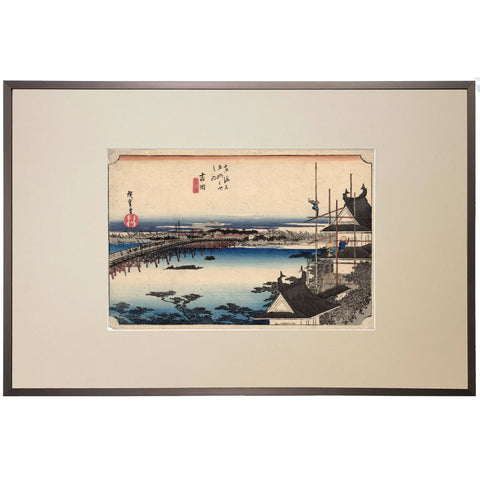 Utagawa (Ando) Hiroshige, "Yoshida: The Toyokawa River Bridge"
Pickup currently unavailable
Yoshida is the thirty-fourth station along Japan's fifty-three stations of the great Tokaido connecting Kyoto to Edo. Along with the Yoshida bridge, which spans the Toyokawa River, the print shows workers erecting and scaling scaffolding on Yoshida temple. Yoshida is located in Toyohashi in Aichi Prefecture. This woodblock print is part of Hiroshige's Hoiedo edition of his famous "53 Stations of the Tokaido" series of prints.
Series: 53 Stations of the Tokaido
Date 1833-34
Size: Oban
Publisher: Hoeido/Senkakudo
Condition: Left margin trimmed, light soiling and mounting evidence verso, overall very good color and condition
Frame Shown: 16" x 24" x 1/2", Modern Metal, Walnut

Utagawa Hiroshige (1797-1858) is the most important Japanese artist to emerge from Edo period ukiyo-e. Hiroshige is a widely recognized master of Japanese woodblock prints whose works have had a tremendous influence on artistic currents throughout the world. His woodblock prints are highly coveted by collectors and museums around the world.
Framing & Shipping Info