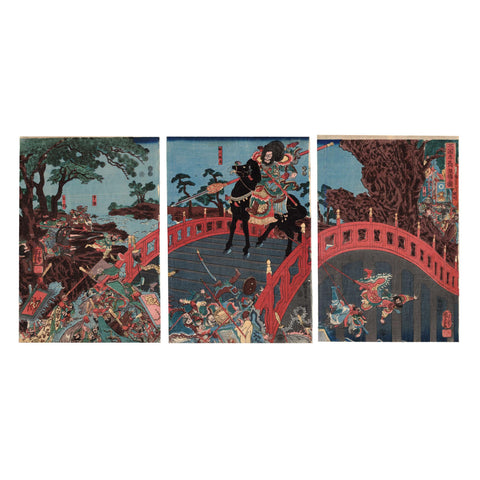 Utagawa Kuniyoshi, "Chohi Defending Chohan Bridge"
Pickup currently unavailable
The story of China's Three Kingdoms chronicles the warring period following the fall of the Han dynasty in the 3rd century. Here the famous general, Chohi (Zhang Fei), sucessfully defends Chohan Bridge against an attack by Soso (Cao Cao, seen fleeing in left panel). Chohi is majestically portrayed in the center panel riding a black horse.
Series: Popular Romance of the Three Kingdoms
Date 1852
Size: Oban Triptych (each sheet approx. 9" x 14")
Publisher: Tsutaya Kichizo
Condition: Light wrinkles, otherwise excellent color and condition
Custom matting available for triptych prints. Sizes will be determined for best presentation in consultation with customer - overall size range will be 20" - 22" (height) X 38" - 40" (width). Note that additional shipping charges apply (sorry, no international shipping available for matted triptychs). Please select option below.
Utagawa Kuniyoshi (1798-1861) is one of Japan's greatest woodblock print artists to produce works during Edo period ukiyo-e. During this lifetime, Kuniyoshi produced a number of prints chronicling the Three Kingdoms warring period in Chinese history, which was a popular historical story among Japanese in his time.
Framing & Shipping Info