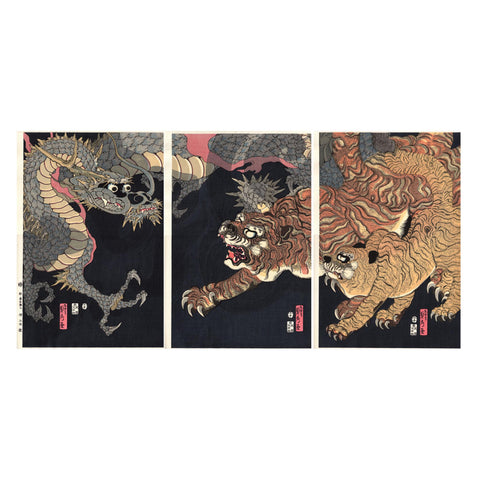 Utagawa Sadahide, "Dragon and Tigers" (Recut)
Pickup currently unavailable
A dramatic triptych by Utagawa Sadahide shows a dragon and two tigers in a mystical confrontation. When depicted together, dragons and tigers symbolize the Taoist duality of yin and yang. Dragons are said to produce clouds, while the roar of the tiger produces wind as a counterforce (note the subtle detailing in the background). Meticulously crafted from recut woodblocks and produced in a limited edition of 200, this woodblock print was crafted by one of Japan's most important publishers: Uchida.
Date: 20th century recut (originally c. 1845)
Size: Oban Triptych (each sheet approx. 10" x 14")
Publisher: Uchida
Condition: Pristine
Custom matting available for triptych prints. Sizes will be determined for best presentation in consultation with customer - overall size range will be 20" - 22" (height) X 38" - 40" (width). Note that additional shipping charges apply (sorry, no international shipping available for matted triptychs). Please select option below.
Framing & Shipping Info