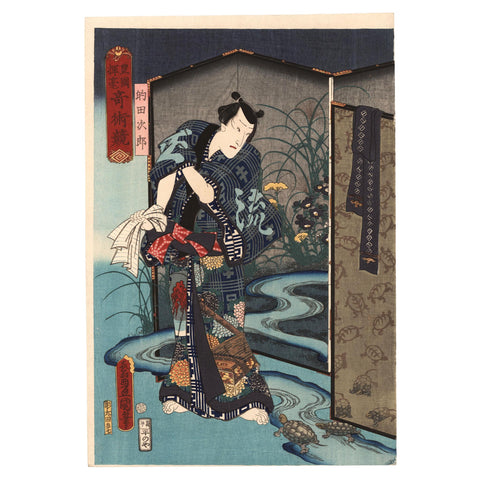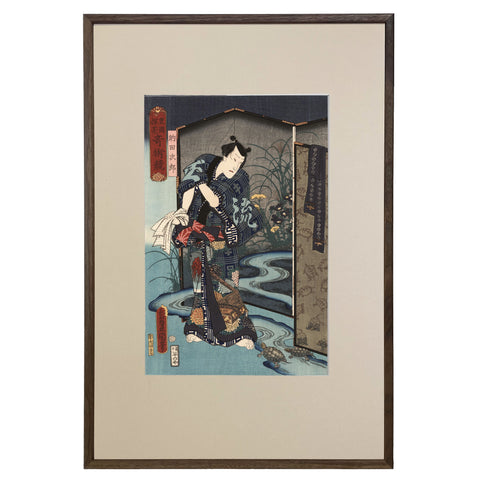 Utagawa Toyokuni III, "Ichimura Kakitsu IV as Motoda Jiro"
Pickup currently unavailable
In this work by Toyokuni III (Kunisada), the actor Ichimura Kakitsu IV portrays Motada Jiro who witnesses a supernatural event. In the scene, Motada Jiro watches as a stream comes to life on the ground, extending from the screen behind him. Turtles slowly begin to emerge from the screen and crawl towards him as he watches in amazement. A wonderful design printed on thick, deluxe paper from one of Toyokuni's last series of woodblock prints before his death in 1865.

Series: Comparison of Witchcrafts
Date: 1863
Format: Oban
Publisher: Hiranoya Shinzo
Condition: Very fine color and condition
Frame Shown: 16" x 24" x 1/2", Classic Wood, Clear Walnut

Utagawa Kunisada (Toyokuni III) (1786-1865) is one of Japan's most prolific and well-known Japanese woodblock print artists to emerge during the peak of ukiyo-e period printmaking. As was common among Japanese artists at the time, his moniker evolved from his teacher and master, Toyokuni I (1769-1825), as his prominence grew.

Framing & Shipping Info