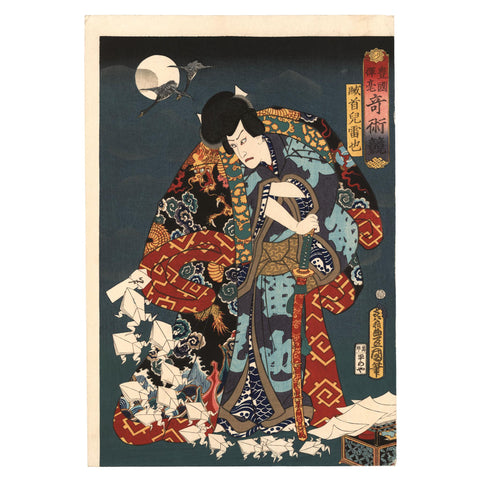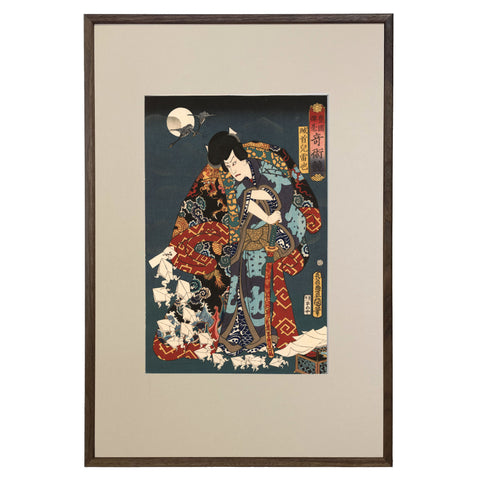 Utagawa Toyokuni III, "The Toad Magician Jiraiya"
Pickup currently unavailable
The toad magician Jiraiya is popular figure in Japanese folklore and mythology. Raised and trained by Senso Dojin in toad magic, Jiraiya has the ability to summon toads at will. In this woodblock print by Toyokuni III (Kunisada), Jiraiya transforms a stack of paper into origami toads that march at his command. In the sky two geese fly against the light of a full moon. Printed on premium paper in very fine condition from one of Toyokuni's last series of woodblock prints before his death in 1865. 

Series: Comparison of Witchcrafts
Date: 1863
Format: Oban
Publisher: Hiranoya Shinzo
Condition: Very fine color and condition
Frame Shown: 16" x 24" x 1/2", Classic Wood, Clear Walnut

Utagawa Kunisada (Toyokuni III) (1786-1865) is one of Japan's most prolific and well-known Japanese woodblock print artists to emerge during the peak of ukiyo-e period printmaking. As was common among Japanese artists at the time, his moniker evolved from his teacher and master, Toyokuni I (1769-1825), as his prominence grew.
Framing & Shipping Info