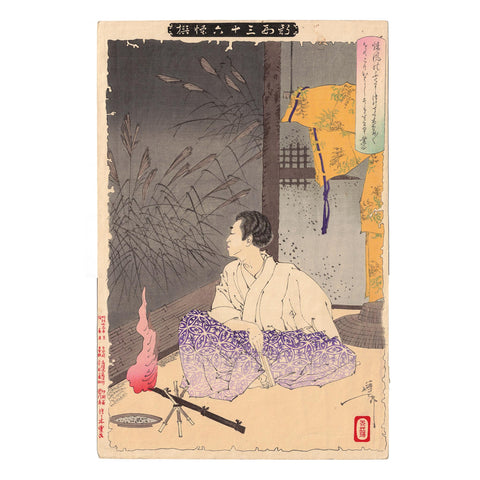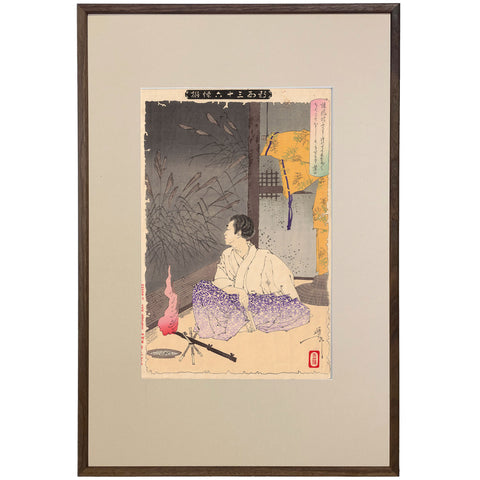 Tsukioka Yoshitoshi, "The Poet Narihira Gazing at an Autumn Field"
Pickup currently unavailable
Narihira was a famous poet in the 9th century who one day is forced to leave his position in the Heian court. One autumn day, Narihira is gazing at a field where he imagines the high grass growing through the skull of his lover, Ono no Komachi. He crafts a poem scribed in the cartouche of the print: "The autumn wind blows, there is nothing more to say, grass grows through the eye-sockets of Ono's skull." A beautiful woodblock print with gaufrage on the white of Narihira's robe.
Series: New Forms of Thirty-Six Ghosts
Date 1892
Size: Oban
Publisher: Sasaki Toyokichi
Condition: Excellent color and condition (original album backing; light trimming)
Frame Shown: 16" x 24", Classic Wood, Clear Walnut

Tsukioka Yoshitoshi's (1839-1892) Shinkei sanjurokkaissen (New Forms of Thirty-Six Ghosts) series of woodblock prints was the artist's last series of works completed between 1889 and 1892 before his death. The prints from this series are exemplary of Yoshitoshi's long interest on macabre and dark subjects, and is illustrative of his unique abilities to channel these subjects into beautifully captivating compositions. Tokaido Arts is pleased to offer a selection from one of Yoshitoshi's most famous series of woodblock prints.
Framing & Shipping Info