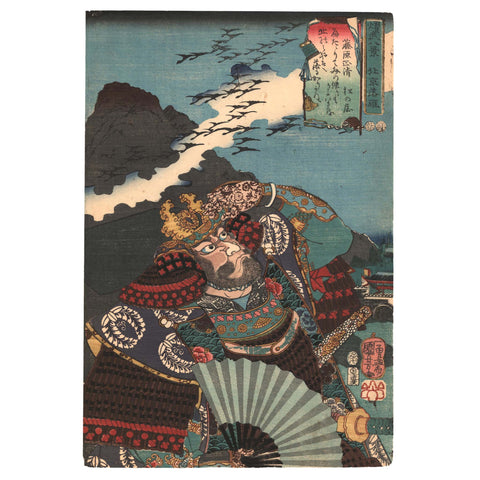 Utagawa Kuniyoshi, "Homing Geese at the Northern Capital"
Pickup currently unavailable
Fujiwara no Masakiyo was the psuedonym used by Kuniyoshi in this portrait of the general Kato Kiyomasa as a way to avoid government censorship at the time. Kiyomasa was charged with leading Toyotomi Hideyoshi's campaign to occupy Korea in the late 16th century. Here, Kiyomasa is steeped in the invasion of Korea and begins to meditate on returning to Japan when he sees a flock of geese in the sky. It is believed that "Northern Capital" refers to the northern part of China.
Series: Military Brilliance for the Eight Views
Date: 1852
Size: Oban
Publisher: Enshuya Hikobei
Condition: Light wear edges, otherwise fine color and condition
Frame Shown: 16" x 24", Classic Wood, Clear Walnut
Utagawa Kuniyoshi (1798-1861) is one of Japan's greatest masters of ukiyo-e printmaking from the Edo period. Many of Kuniyoshi's works are regarded today as archetypes of woodblock prints produced during the Edo period and highly prized by collectors.
Framing & Shipping Info